It's been a good few weeks for KonMari. The end is in sight and I can't wait 'til it's all done.
We've been to the electronics recycling station twice and need to go again because there are TVs, computers and microwaves in the garage that we need to dump before the snow comes back (and there's a TV and DVD upstairs that will need to go if we can get someone to carry it down for us.) TW did manage to clear some of the content from some of the old laptop hard drives but she hasn't finished — once she has, we'll need to dump those hard drives.
Also, during my last update, we were heading into the world of toys. Hah. It turned out to be a more difficult category than I'd originally expected. I kondoed the toys in the shelf that sits in front of the fireplace — that was easy. I ended up discarding a small grocery bag of stuff. At which point, I buzzed my kid and said, "you're not going to tell me you're pregnant the day after I discard all of the baby toys, are you?" … she laughed. She said she should ask JMP if the toys bring him joy. I told her that was dumb because he would say yes, all the toys belong to JMP and they all bring joy. But, he isn't here and he won't know the difference because Grandma will just buy MORE toys and that will be fine. She laughed and said that JMP needs all the baby toys. I said TOO BAD, they are going….
And then the weekend was over and I hadn't gotten upstairs or into the extra bedroom to do anymore, which is a good thing since the damn kid sent me this photo, the next day: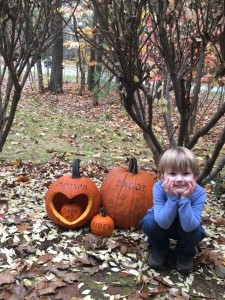 Yea. There goes the idea of discarding all of the baby toys, right? Right!
I did, however, manage to discard a bag of odds and ends – some broken things, some things that just never got played with. I also found all of the old legos, wooden trains, and hot wheels (joy!) and I started sorting through the toys in Elly's room – tossing anything that was totally dead or disgusting and putting her zillion stuffed animals into bags for her to sort… soon. Very soon.
I tracked down all of the board games and stacked them up in the dining room — when all of the kids are here for Christmas, I'll make them decide which ones we should keep and which we should get rid of. (Oh, they also need to go through the DVDs/VHS tapes when they're here — someone remind me of that.)
Then, we moved on to the arts & crafts supplies. Another tough category but we did it.
TW sorted through all of her quilting material and knitting stuff and ended up with a bag to take to goodwill and a bag to throw in the trash. I went through all of the art supplies on my desk and Raskogs and various other carts and gave some paint to Elly (Buster ate a bottle and ended up painting one of the dog beds pink — that was fun.) And, I had a bag of trash as well as a bag to donate. I even managed to get Elly to go through her craft supplies — that was tough but she did it. She took a bag of stuff to her father's house and we ended up with a bag to donate. Yay, us!
Then we back-pedaled a bit and Kondoed shoes — we ended up discarding or donating 9 pairs of boots/shoes/slippers/sandals. Woot.
Here's what's left:
– Knick Knacks
– Art (you know, that stuff some people hang on walls but we generally just store in closets. sigh)
– Seasonal decor
– Sentimental things
In preparation for the last four categories, and the holidays, I cleaned out the present closet and then the entire cold room (it's a bedroom that has no insulation so it's always freezing cold and we use it for storage.) All of the bins and boxes that hold sentimental things, that were in the cold room, are now in the office. I dumped two garbage bags of stuff and have another garbage can full of stuff to throw out and we have a ton of stuff to take to Goodwill next week, too.
I've got all of the seasonal decor in one place, ready to Kondo when the kids are here (though I'm going to do the two bins of gift boxes/wrapping paper tomorrow) and I'm going to move the empty rubbermaid bins into the cold room so they're out of the darn office where I keep tripping over them.
I can't decide what to do about the knickknacks… do we really need to put them all in one place and touch each one to determine joy? I'm leaning toward no — and just have us all wander around the house and looking at/touching everything and discarding as we go… That seems fine, doesn't it?
So, that's where we are… making excellent progress. We might really be able to finish this by the end of the year. Maybe. The sentimental stuff is going to be hard — there is so much and we are so sentimental. lol.
(We'll also be going through each room, once all of the categories are done, and Kondoing again — the stuff we overlooked the first time or never got to for one reason or another. And of course, there's also the garage. Ugh. But let's not think about that now. Ugh.)