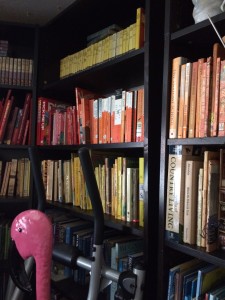 We're pretty much through all of the books and magazines — though I'm very sure there are some lurking in corners and drawers and all the places that we will stumble upon later — and I've learned a lot from this exhausting process.
There are some things that bring us joy, things we just cannot let go.
Children's books, obviously. We knew that going in. I, however, was more ready to let go of children's books than TW was. I was more likely to keep books that I knew my children loved, because they've said so or because I have strong memories of them reading those books (or asking me to read them aloud.) TW was more likely to keep children's books that brought her joy… whether they brought the children joy, or not. I let go of a whole lot of Newberry winners that brought ME joy but never brought my kids any joy at all. TW retrieved them from the discard pile because they brought her joy. I get it. That was me the last time we discarded a lot of books. lol
I had trouble letting go of orange books… but not nearly as much as I'd expected. I love orange. I love Penguin books. Turns out I was ok letting go of a whole lot of orange that really didn't bring me joy except that they were orange and they were Penguins. Hah. I can always buy more Penguins later.

We both had a whole lot of trouble letting go of non-fiction. Anything about women or children or minorities in general, we seemed to keep. Anything American history related, we seemed to keep. TW has a fondness for math and science books — me, not to much lol. Children's non-fiction, oy. Don't even get me started. I think we're going to have to weed some more of those out later. How many visual dictionaries do we need?
Poetry. I was more likely to discard poetry anthologies but TW plucked them right back off of the discard pile. We have all the poetry in the world. If you need it, we have it.
Last, but not least, lesbian fiction. The good, the bad, the ugly — we have it and we are keeping it. It's hard to let that go. You never really know if a library will have lesbian fiction, and certainly not old lesbian fiction. There's also the question of what would happen to those books after we donated them. I'm ok with the fact that once books are donated, anything might happen to them. They might be recycled, they might not. I just don't want to think about all of these lesbian novels landing in a recycle bin or worse. All of the Naiads, oh the Naiads. Sometimes you just want to read lesbian fiction. Sometimes you just NEED to read bad lesbian fiction.
There you go, a look into which books bring us joy… and why.