A long time ago, we had a house full of kids and constantly missing scissors. TW, being TW, ordered a gross of scissors from ebay — a mix of all kinds of scissors, probably those confiscated at an airport by TSA or something. It was a glorious thing to see all of those scissors. To have them all inside of this wonderful metal box that belonged to TW. To always know that if you needed scissors and none were immediately at hand, you could just head to the metal box of scissor joy.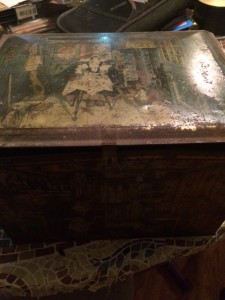 Fast-forward 10 (or more?) years and we still have the metal box but it's a lot less full of joy than it used to be. Scissors have disappeared to wherever scissors go. Or, scissors have been thrown away because they don't actually do the job of cutting any longer. Or, I don't know. They're just gone.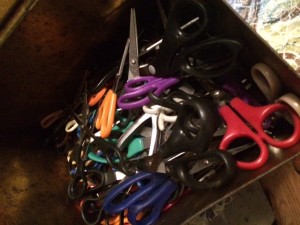 Which is fine. Really. We're no longer a house full of children and we do have more than enough scissors to bring us joy. I cannot see us buying any more scissors in our lifetime. Really. TW's purchase was a great investment on our future. Truly. If they still sell these huge boxes of scissors on ebay and you have a house full of kids and constantly missing scissors, you should consider just such a purchase. It will serve you well.
But, here's where I'm having some KonMari joy problems.
1) Some of the scissors in this box really don't bring much joy. I can't see us ever using some of these types of scissors, ever. They're just not the kind of scissors we actually use or need. We definitely need to Kondo these. Immediately.
2) Worse yet, we're notoriously bad at putting scissors back to the place that they belong. (I'm sure we blamed the kids all those years ago when TW bought all of the scissors, but it's clearly a shortcoming of the adults in the house, as much as the kids.) Putting items back to their proper place is a clear mandate of the KonMari system. Determine where items belong and put them there. Keep them there. Always return them there. That's how you prevent clutter and prevent yourself from buying more things that you don't need. If your things are always in their proper places, you will always know what you have and not find yourself buying more of things that you ultimately do not need.
A few days ago, I rounded up all of the scissors I could find in the downstairs part of the house (again, I'm not touching the girls' rooms upstairs and I'm not touching TW's mom's room.) I'm sure there are more scissors that I have not found but I rounded up dozens of scissors from all over the place. The only scissors I did not remove from their existing locations were a) a pair of scissors on my art table b) the broken kitchen scissors, which I repaired and left in the drawer, (though I suspect these are more broken than I'd like to think and will ultimately be discarded.)
Since the day when I rounded up all of the scissors, during a conference call at work (I'm one hell of a multi-tasker), scissors have found their way back to a variety of places where they're somewhat useful but… they do not actually BELONG in these places. Or do they?
Is that my problem with scissors? I think they should always live in the big metal box but maybe the excess scissors should always be in the big metal box but other scissors should live in other places?
Some people think that you should keep items where you're most likely to use them. Marie Kondo says this is wrong. That when we need something, we do not mind the effort it takes to go to the location where the item lives to get the item that we need. The problem lies in the putting the item back. If it's difficult to return a thing to its proper place, we will not do so. We need to make the item easier to return than to retrieve. Is that making sense? It makes sense when she says it, trust me.
The metal box is not super easy to get to, in its current location. It lives on the bottom shelf of a Billy in the office. There are often things sitting in front of it or on top of it. It's less than 10′ from where I'm sitting right now, typing this. I can see it on the shelf. Yet, there are three pairs of scissors sitting in the coffee cup on my desk. Why didn't I get up and put the scissors back in the metal box when I finished using them? I retrieved them from the box when I needed them. Three times! What made it so much harder to put them back?
Is it because I have this coffee cup sitting on my desk that's full of pens? If that coffee cup wasn't on my desk, would I be more likely to put the scissors in the box? If I move the box to another location, would I be more likely to put the scissors back?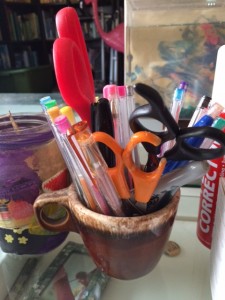 How do I explain the scissors that are even closer to the metal box, on TW's desk? A desk she does not use… as a desk. At all. Ever.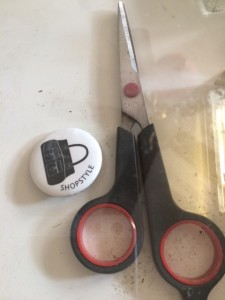 Or the extra pair of scissors that found its way into another kitchen drawer?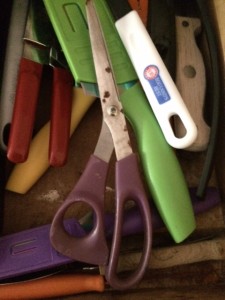 Or the scissors that are on the dresser in the bedroom?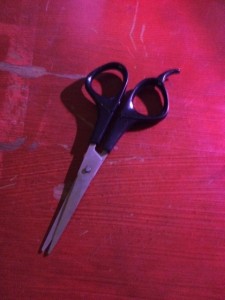 Did someone retrieve all of those from the metal box? Was it me? Or were they "found" not in their proper place, the metal box, but somewhere else and I just missed them on the first pass? And, where should the big metal box live that would make it easier for all of the people in the house to put all of the scissors away all of the time?
Or, should I just stop thinking about this and put one pair of scissors in all of the places scissors are often found and get rid of the surplus of scissors that live in the box, even though they mostly still bring joy (they'll all bring joy, once we go through the box and toss out the really dumb scissors.)
Surely other people have scissor issues? But if that's true, why has nobody recorded a KonMari scissors video? Maybe it's just me? Maybe it's just us?