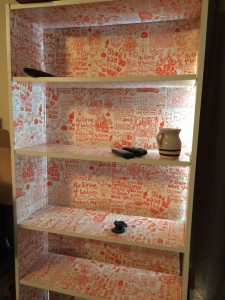 We did it. We made it through the books category without killing each other or ourselves. (Or having the kids kill us.)
TW went through all of the cookbooks last night. I went through them after her — twice. Elly indicated she wanted to go through them and then she didn't. Turns out she wasn't attached to any specific cookbook (though she probably is and we were smart enough to feel joy for those anyway) but was attached to the idea of all the cookbooks, always and forever, amen.
Which is pretty much how we feel about all of our books, which is why we really did need to take each one off of the shelf and hold each one in our hands and THEN make a decision about a book.
It worked well and here's our final talley:
We have a total of eight full-size billy bookcases. Five have height extenders. We also have two corner Billys with height extenders. There are five small bookcases upstairs in the girls rooms. Before we started, all of the shelves were full plus we had books stacked in other locations around the house. And, a big rubbermaid bin full of books.
Now, we have 13 full-size Billy shelves that are completely empty. There are four corner Billy shelves that are empty. The bookcases in the girls rooms upstairs are mostly empty. There are no piles of books anywhere (except in boxes and bags to donate, lol) and the rubbermaid bin is empty of books. I have one stack of magazines that bring me joy.
The donation pile/recycle pile looks like this.
5 kitchen-sized garbage bags were recycled.
33 grocery shipping bags were filled.
14 boxes full of books (most are UHaul book boxes but some are amazon boxes of different shapes and sizes, a box for copy paper, and a flat for some sort of fruit or veggies from Costco.
I'm really pleased with how well we did. I also think we'll be able to discard some more when we pack out next year. I don't think we'll discard a lot, at that point — but some more things will go.
One other note — there are 12 shelves of OLD books/series that mostly bring us joy. They're sentimental favorites and so we did not really touch them at all during this phase of KonMari. We will revisit them at the very end of the process, though I suspect most, if not all, will bring us joy.