It has begun, officially.
Chris and Michelle are here. The Little Kids are here. The tree has too many gifts underneath it, and Santa has not yet arrived.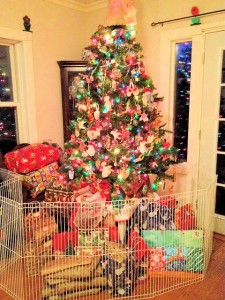 We all Facetimed with my mom, which led to TW's mom asking us HOW we're able to do that… we said, "You press the Facetime button" which was not what she meant. She seems to want to know HOW it works. Or what magic allows it to happen. Or the science around it. Or something.
Skeeter has finally decided that Christopher is OK. Probably. She's also decided that she might like this Christmas thing. The peoples keep saying YES! and giving her treats. There are many hands to give belly rubs. People leave their mail out where she can get it and she really loves eating Christmas cards.
We just have a few gifts left to wrap, which feels really nice — every time I think about it.
The first batch of Christmas cookies have been eaten completely — The Peanut Butter Blossoms. RJ is messing up my kitchen, making Jim Bars. The Mint Sugar Cookies that Saved My life have been baked. We'll decorate them tomorrow, which is when the fun really happens.
A perfect holiday is in full swing. The only things missing are Jenn, Teddy and JMP… and Michelle's "Baby's First Christmas" ornament. I bet one of her siblings found it and hid it from her. Wanna bet?
See? Perfect Christmas.